Professional Scrum™ with Kanban (inglise keeles)
Koolituse maht: 16 akadeemilist tundi (2 päeva)
Sihtgrupp: The Professional Scrum with Kanban course is an advanced course designed for experienced Scrum Practitioners who have a good understanding of the Scrum framework. It is particularly beneficial for Scrum Masters.
Koolitusel osalemise eeldused: There are no prerequisites for attending this course.
Koolituse kirjeldus
Professional Scrum™ with Kanban (PSK) is a 2-day course that teaches Scrum practitioners how to apply Kanban practices to their work. Through theory, case studies, and hands-on exercises, participants will understand the importance of transparency and flow as it pertains to the Scrum framework.
Scrum is the defacto standard for how Agile teams work. Scrum exists only in its entirety and functions well as a container for other techniques and practices. Scrum Teams keep improving how they work, based on what they learn by inspecting and adapting on an ongoing basis.
In this class, students will learn how additional practices from Kanban can be introduced into their Scrum Teams without changing Scrum. They will learn how to add the right practices and the benefits that their Scrum Teams can achieve from using Scrum with Kanban.
The Professional Scrum with Kanban course is for all Scrum Practitioners, with an emphasis on Scrum Masters looking to add Flow techniques to their toolbox.
All participants completing the Professional Scrum with Kanban course will receive a password to attempt the Professional Scrum with Kanban I (PSK I) assessment.
Certification
The course prepares for Professional Scrum with Kanban I (PSK I) assessment by Scrum.org. The assessment is included in the course price. Those willing to take the assessment can do it on their own computers after the course. Instructions how to order and take the assessment will be provided during the course.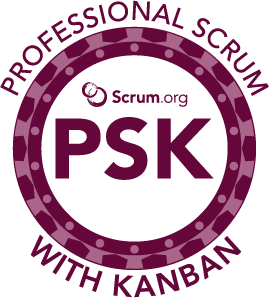 Koolituse teemad:
Professional Scrum Primer
Kanban Theory, Principles and Practices
Kanban in Practice
Scrum with Kanban
Koolituse õpiväljundid
After completing this course, students will:
Gain a clear understanding of how flow works within the context of Scrum
Be introduced to Kanban practices that Scrum Teams can adopt to help improve their effectiveness and efficiency
Understand how to effectively use the appropriate Kanban practices without changing Scrum
Learn a practical approach to improving transparency and visibility of work.
Koolitushind sisaldab:
klassikoolitust;
õppematerjale;
eksamivautšerit;
tunnistust.
Lisaks pakume:
vajadusel tasuta korduskoolitust kui tunned, et mõni oskus vajab täiendamist või pidid endast mittesõltuvatel põhjustel koolituse katkestama;
sooje jooke koos küpsistega;
lõunasööki igal koolituspäeval.
Täienduskoolituse õppekavarühm: juhtimine ja haldus
Koolitaja
Anssi Rusanen

Anssi Rusanen

Anssi is experienced ICT professional, coach and trainer.

Certificates:
SAFe (4.6) Program Consultant (SPC) (2019)
Certified Scrum Master (2007)
Certified Scrum Professional (2009, expired)
Professional Scrum Master I (2010)
Professional Scrum Developer (.Net) (2010)
Professional Scrum Developer Trainer (.Net) (2010)
TOGAF 9 Foundation (2011)
ISEB ISTQB Foundation (2013)

Presentation skills: Over 15 years of experience of giving presentations and training sessions for ex-pert audience in both English and Finnish languages. Teacher's degree.

Team Leadership: Resourcing, understanding and resolving team related issues (competences, peo-ple, collaboration etc), personal coaching and growth facilitating, competence strategy building and implementing.

Enterprise, information and application architectures: Designing, resolving and consulting architectures on application, information sys-tems and enterprise level (TOGAF 9 foundation certified)

Project work: Working inside and leading a software project, coaching and mentoring. Improv-ing corporate processes. Tools and methods within a software development (Ag-ile, SAFe, Lean, Scrum, "traditional" methods).

Software implementation: C#, Java, Node.js, SpringBoot, HTML(5), CSS(3), Python, C++, C, SQL, XML

Tools: Android Studio, MS Visual Studio, Team Foundation Server, Eclipse, Jira, Git, Ra-tional Software Modeler, MOSS, MS CRM, MS Office