IT spetsialisti baasõpe (CompTIA A+ baasil)
Koolituse maht: 80 akadeemilist tundi (10 päeva)
Sihtgrupp: Koolitus on mõeldud kõigile, kellel puudub varasem IT-alane ettevalmistus, kuid soov õppida IT spetsialistiks. Koolitus sobib hästi ümberõppeks.
Koolitusel osalemise eeldus: Arvutiga töötamise oskus kasutaja tasemel ja üldteadmised arvuti riistvarast, tarkvarast ja arvutivõrkudest.
Koolituse kirjeldus

CompTIA A+ is the industry standard for establishing a career in IT and the preferred qualifying credential for technical support and IT operational roles. It is about much more than PC repair. Candidates are better prepared to troubleshoot, and problem solve, and technicians better understand a wide variety of issues ranging from networking and operating systems to mobile devices and security. A+ supports the ability to connect users to the data they need to do their jobs regardless of the devices being used. CompTIA A+ certified professionals are proven problem solvers. They support today's core technologies from security to cloud to data management and more. CompTIA A+ is the industry standard for launching IT careers into today's digital world.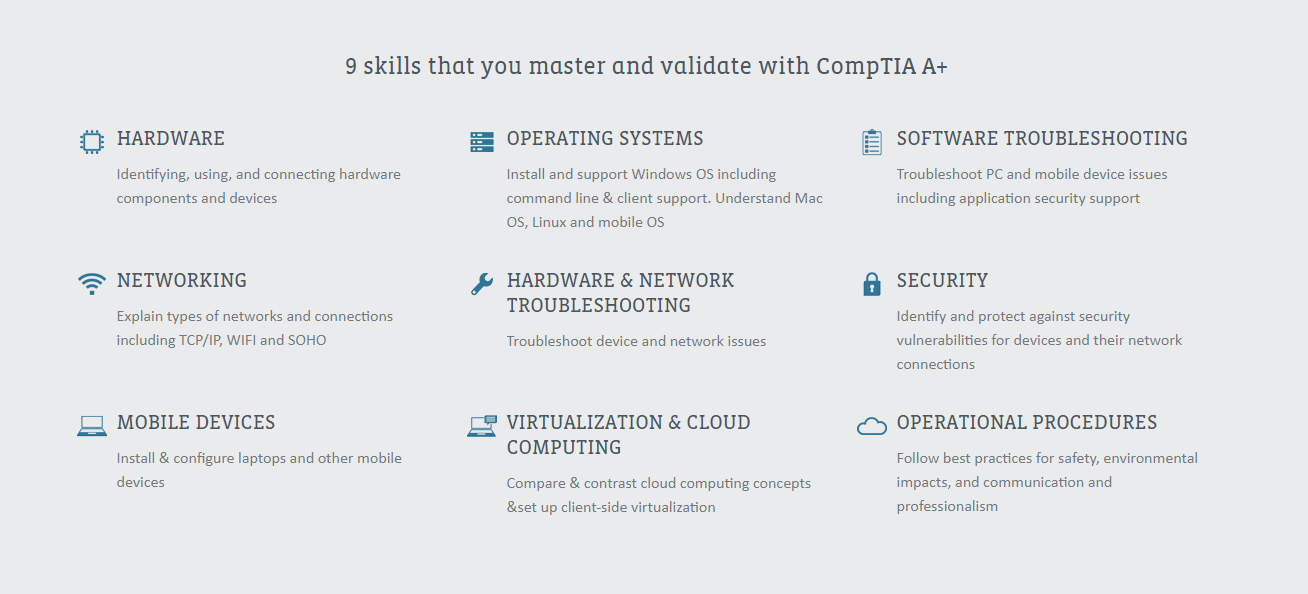 Day One
Welcome and Course Introduction
Identify Common Operating Systems
Troubleshooting Methodology
Use Windows Features and Tools
Manage Files in Windows
Manage Disks in Windows
Manage Devices in Windows
Day Two
Use Appropriate Safety Procedures
PC Components
Common Connection Interfaces
Install Peripheral Devices
Install and Configure Display Devices
Troubleshoot Display Devices
Install and Configure Multimedia Devices
Install System Memory
Day Three
Install and Configure Mass Storage Devices
Install and Configure Removable Storage
Configure RAID
Troubleshoot Storage Devices
Install and Upgrade CPUs
Configure and Update BIOS/UEFI
Install Power Supplies
Troubleshoot Internal System Components
Configure a Custom PC
Day Four
Configure and Use Linux
Configure and Use macOS
Install and Upgrade Operating Systems
Maintain OSs
Install and Manage Windows Applications
Manage Windows Performance
Troubleshoot Windows
Day Five
Wired Networks
Network Hardware Devices
Wireless Networks
Internet Connection Types
Network Configuration Concepts
Network Services
Configure Network Connection Settings
Install and Configure SOHO Networks
Day Six
Configure SOHO Network Security
Configure Remote Access
Troubleshoot Network Connections
Install and Configure IoT Devices
Manage Users
Configure Shared Resources
Configure Active Directory Accounts and Policies
Day Seven
Configure Client-Side Virtualization
Cloud Computing Concepts
Logical Security Concepts
Threats and Vulnerabilities
Physical Security Measures
Implement Security Best Practices
Implement Data Protection Policies
Protect Data During Incident Response
Detect, Remove, and Prevent Malware
Troubleshoot Common Workstation Security Issues
Day Eight
Use Laptop Features
Install and Configure Laptop Hardware
Troubleshoot Common Laptop Issues
Mobile Device Types
Connect and Configure Mobile Device Accessories
Configure Mobile Device Network Connectivity
Support Mobile Apps
Secure Mobile Devices
Troubleshoot Mobile Device Issues
Day Nine
Maintain Laser Printers
Maintain Inkjet Printers
Maintain Impact, Thermal, and 3D Printers
Install and Configure Printers
Troubleshoot Print Device Issues
Install and Configure Imaging Devices
Day Ten
Environmental Impacts and Controls
Create and Maintain Documentation
Use Basic Change Management Best Practices
Implement Disaster Prevention and Recovery Methods
Basic Scripting Concepts
Professionalism and Communication

Koolituse eesmärk
Koolituse eesmärgiks on anda üldised põhjalikud teadmised ja oskused töötamiseks IT spetsialistina. Lisaks teoreetiliste teadmiste omandamisele tehakse klassis koolituse jooksul erinevaid praktilisi harjutusi, mis annavad osalejatele võimaluse lähedalt tutvuda arvuti ja võrgu riistvaraga. Koolitus annab ülevaate arvutite riistvarast, tarkvarast (operatsioonisüsteemid ja kontoritarkvara), arvutivõrkudest. Lisaks IT spetsialistile vajalikud teadmised tööohutusest, tööalasest etiketist ja IT probleemihalduse mudelitest.
Koolituse õpiväljundid
Koolituse edukal lõpetamisel õppija:
 on omandanud IT-spetsialisti põhioskuseid;
tunneb peamiste operatsioonisüsteemide konfigureerimise võtteid (Windows, Mac, Linux, Chrome OS, Android, iOS);
tuleb toime IT põhiteenustele toe pakkumisega;
oskab tuge pakkuda IT taristu ja võrkude probleemide korral;
tunneb põhilisi arvutite ja mobiilsete seadmete riistvara seadistamise viise;
tunneb põhilisi tagavarakoopiate tegemise ja neist andmete taastamise viise.
Koolituse lõpetamise tingimused: õpiväljundite saavutamist kontrollitakse ja hinnatakse läbi iseseisva praktilise töö.
Koolitushind sisaldab:
ettevalmistatud töökohta vajaliku riist- ja tarkvaraga klassiruumis. Veebikeskkonnas osalejale võimaldame vajadusel kaugligipääsu koolitusel osalemiseks nõutud tarkvarale;
praktilisi laboreid;
CompTIA ametlikke õppematerjale;
koolitaja konsultatsiooni õpitud teemade kohta e-posti teel pärast koolitust;
tunnistust (koolitus loetakse läbituks, kui on täidetud õppekava mahust vähemalt 80% ja teised koolituskavast tulenevad nõuded nt eksam, arvestus, praktiline töö jms).
Lisatasu eest on võimalik sooritada sertifikaadieksamid CompTIA A+ 220-1001 (Core 1) ja 220-1002 (Core 2).
Lisaks pakume:
vajadusel tasuta korduskoolitust kui tunned, et mõni oskus vajab täiendamist või pidid endast mittesõltuvatel põhjustel koolituse katkestama;
sooje jooke koos küpsistega;
lõunasööki igal koolituspäeval.
Täienduskoolituse õppekavarühm: informatsiooni- ja kommunikatsioonitehnoloogia interdistsiplinaarne õppekavarühm
Koolitaja
Peep Võrno

Koolitaja

Peep on serverite ja võrkude vastu suurt huvi tundnud juba aastast 1992. Koolitajana on ta aktiivsemalt tegutsenud alates aastast 2003. Tegemist on koolitajaga, kes oskab tuua praktilisi näiteid ja siduda õpitav reaalsusega.

Sertifikaadid ja tunnistused:
Microsoft Certified Trainer (MCT) aastast 2003
XtremeLabs Certified Instructor
Certified CompTIA Network+
Certified CompTIA A+
CompTIA CIOS specialist
Microsoft Certified: Azure Administrator Associate
Täiskasvanute koolitaja, tase 5