Turvalisuse alused (CompTIA Security+)
Koolituse maht: 40 akadeemilist tundi (5 päeva)
Sihtgrupp: This course is still designed for learners who have experience as IT professionals with experience in TCP/IP networking and Windows administration, and who want to gain additional knowledge of security topics or use this course as the foundation for advanced security certifications and career roles.

Koolitusel osalemise eeldused: To ensure your success in this course, you should have basic Windows user skills and a fundamental understanding of computer and networking concepts.
Koolituse kirjeldus

The CompTIA Security+ course will certify the successful candidate has the knowledge and skills required to install and configure systems to secure applications, networks, and devices; perform
threat analysis and respond with appropriate mitigation techniques; participate in risk mitigation  activities; and operate with an awareness of applicable policies, laws, and regulations.
CompTIA Security+ is the primary course you will need to take if your job responsibilities include securing network services, devices, and traffic in your organization. You can also take this course to prepare for the CompTIA Security+ (Exam SY0-501) certification examination.
In this course, you will build on your knowledge of and professional experience with security fundamentals, networks, and organizational security as you acquire the specific skills required to implement basic security services on any type of computer network. This course can benefit you in two ways. If you intend to pass the CompTIA Security+ (ExamSY0-501) certification examination, this course can be a significant part of your preparation. But certification is not the only key to professional success in the field of computer security. Today's job market demands individuals with demonstrable skills, and the information and activities in this course can help you build your computer security skill set so that you can confidently perform your duties in any security-related role.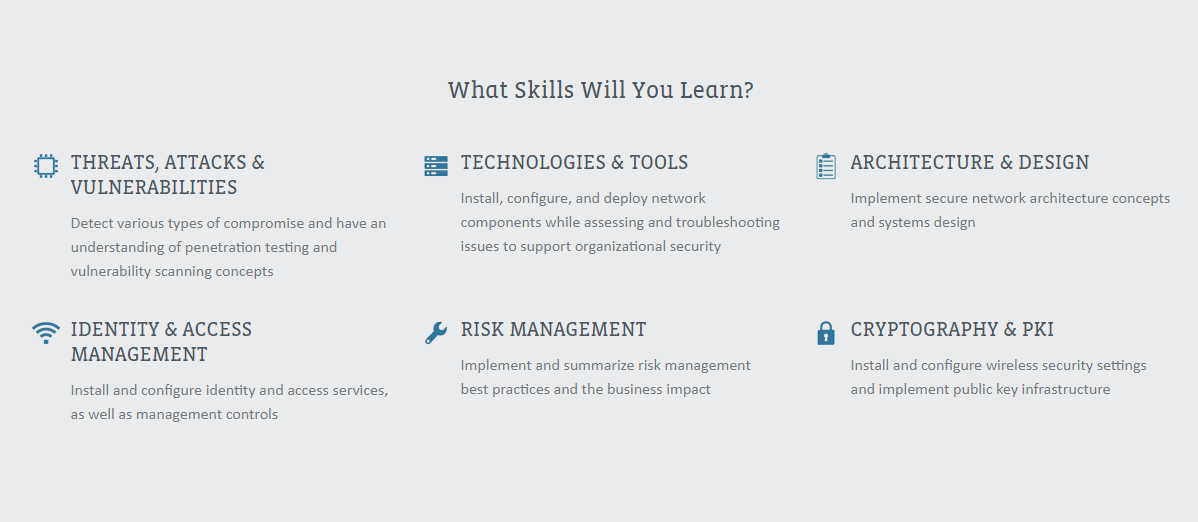 Koolituse eesmärk
In this course, you will use fundamental security principles to install and configure cybersecurity controls and participate in incident response and risk mitigation.
Koolituse õpiväljundid
After completing this course, students are able to:
• Compare and contrast attacks.
• Compare and contrast security controls.
• Use security assessment tools.
• Explain basic cryptography concepts.
• Implement a public key infrastructure.
• Implement identity and access management controls.
• Manage access services and accounts.
• Implement a secure network architecture.
• Install and configure security appliances.
• Install and configure wireless and physical access security.
• Deploy secure host, mobile, and embedded systems.
• Implement secure network access protocols.
• Implement secure network applications.
• Explain risk management and disaster recovery concepts.
• Describe secure application development concepts.
• Explain organizational security concepts.
Koolituse lõpetamise tingimused: õpiväljundite saavutamist kontrollitakse ja hinnatakse läbi iseseisva praktilise töö.
Koolitushind sisaldab:
ettevalmistatud töökohta vajaliku riist- ja tarkvaraga klassiruumis. Veebikeskkonnas osalejale võimaldame vajadusel kaugligipääsu koolitusel osalemiseks nõutud tarkvarale;
praktilisi laboreid;
CompTIA ametlikke õppematerjale;
koolitaja konsultatsiooni õpitud teemade kohta e-posti teel pärast koolitust;
tunnistust (koolitus loetakse läbituks, kui on täidetud õppekava mahust vähemalt 80% ja teised koolituskavast tulenevad nõuded nt eksam, arvestus, praktiline töö jms).
Lisatasu eest on võimalik sooritada sertifikaadieksam CompTIA Security+ SY0-601
Lisaks pakume:
vajadusel tasuta korduskoolitust kui tunned, et mõni oskus vajab täiendamist või pidid endast mittesõltuvatel põhjustel koolituse katkestama;
sooje jooke koos küpsistega;
lõunasööki igal koolituspäeval.
Täienduskoolituse õppekavarühm: andmebaaside ja võrgu disain ning haldus (0612 ISCED)
Koolitaja
Peep Võrno

Koolitaja

Peep on serverite ja võrkude vastu suurt huvi tundnud juba aastast 1992. Koolitajana on ta aktiivsemalt tegutsenud alates aastast 2003. Tegemist on koolitajaga, kes oskab tuua praktilisi näiteid ja siduda õpitav reaalsusega.

Sertifikaadid ja tunnistused:
Microsoft Certified Trainer (MCT) aastast 2003
XtremeLabs Certified Instructor
Certified CompTIA Network+
Certified CompTIA A+
CompTIA CIOS specialist
Microsoft Certified: Azure Administrator Associate
Täiskasvanute koolitaja, tase 5